Late last night, when most of you were dreaming about sheep and bunny rabbits (right?), a massively anticlimactic brawl between the Diamondbacks and Dodgers went down (although we did get this photographic gem of '80s-'90s stars Kirk Gibson, Don Mattingly, Matt Williams, and Mark McGwire doing the tango, via
businessinsider.com
). Like a scene from Gangs of New York, tempers flared and bats rose (see Arizona's chest-pounding bullpen march down below)...
It all came down to 22-year-old LA phenom Yasiel Puig (you know, the Dodgers sensation, newly named the "Cuban Missile," batting .471 with 4 dingers in 9 games, and propelling the Dodgers to new heights). After their prized prospect was plunked earlier in the game (see below) by Ian Kennedy, things got steamy...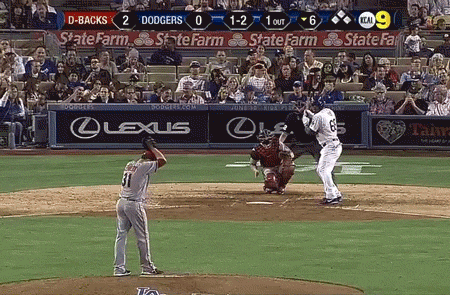 Then after missing on two pitches, Zack Greinke beaned Miguel Montero in return. An eye for an eye, right? Here's when the volcano began to erupt...
And then came the epic finish...
On second thought, let's just turn to hockey for true recklessness...
Best Hockey Fight Brawl Knockout Punch Hit...
by twelve2012